---
Training and Racing: Tuesday 22 Sept - Sunday 27 Sept 2009
---
Tuesday 22 Sept - 6:30pm
A 10.3 mile run from Bramcote on the roads via the University Boulevard to do 5 x 3 min (90 sec recovery) @ VO2/5k effort/pace.
Saturday 26 Sept - 9am
Wollaton Park easy 7.5 mile run for 1 hour, meet at St. Leonard's Avenue, Wollaton - worth checking to see who's about.
Sunday 27 Sept - 9am
Papplewick for 14 or 18 miles around the forests of Nottingham.
Race Results
Berlin Marathon
Ben Bennett 02:31:08 4th V40
Rob Stafford-Keal 02:31:08 15th Senior (Don't think hands were held) ;)
Finish line at Zagreb World Mountain Masters 2009
World Master Mountain Running Championships - Zagreb
Gary McMahon 49:35 25th V50, 1st GB (
Results
)
It felt better than it looks!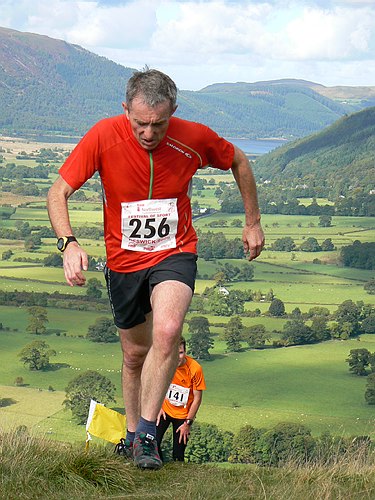 Commonwealth Mountain Running Championships, Keswick - Open Race
Gary McMahon 1:04:47, 4th V50